Airtime Acrobatics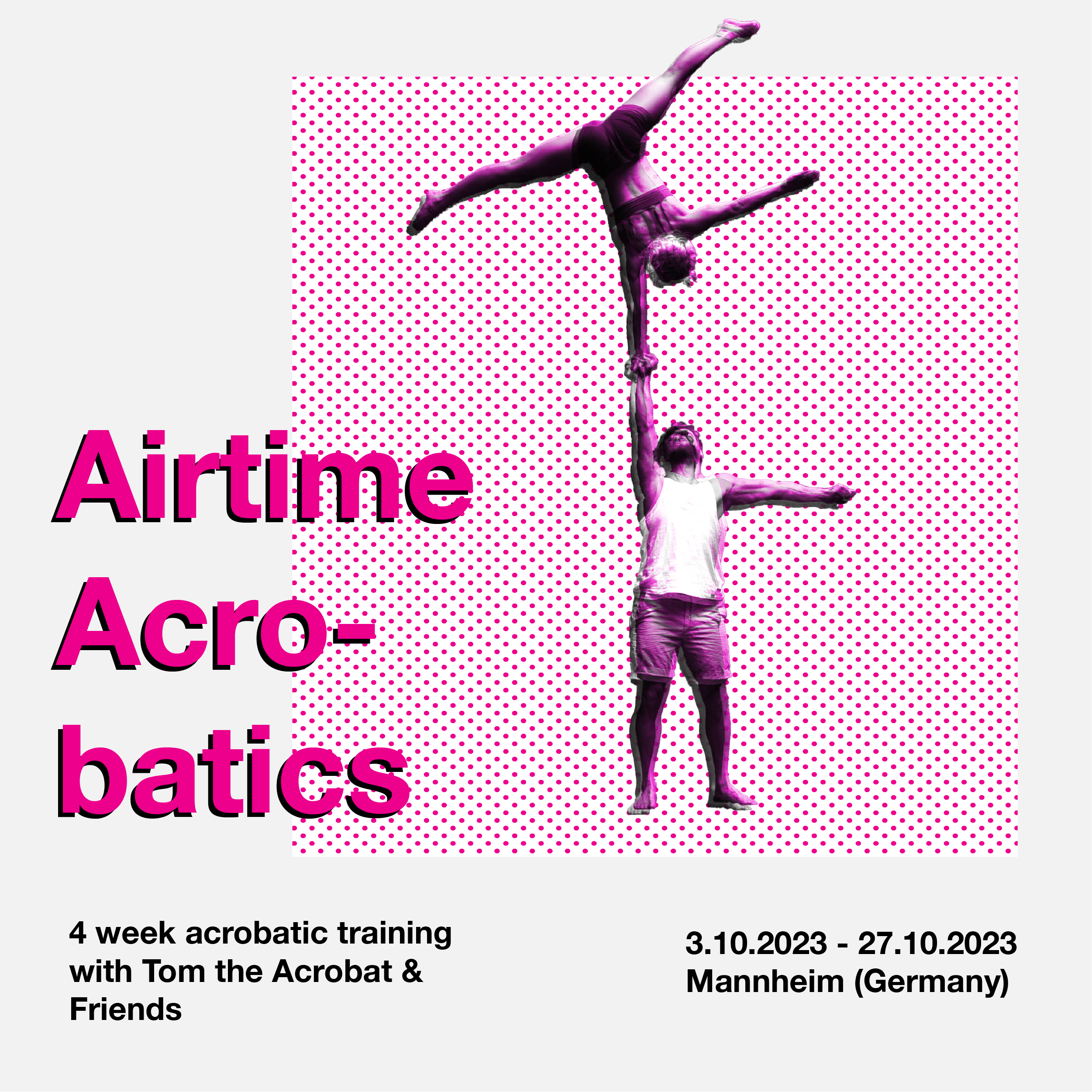 >>> Welcome to Airtime!!! <<<
Airtime Acrobatics is offering a 4-week long acrobatics program in October 2023 in Mannheim Germany. We provide a circus school training structure which contains a mix of high-intensity, technical classes alongside creative and fun classes – to give everyone the chance to both work hard on their technique and discover their own style in the world of acrobatics. There is always space for free training with some teachers to help you individually.
Every day has multiple classes for different levels and interests which will orientate to the wishes of the participants. Every week contains around 37 hours of standing acrobatics, Icarian games, tumbling, handstands, strength and flexibility classes.
The team consists of professional acrobats with many years of experience as both performers and teachers. They have much experience in taking tricks out of line, training towards goals – not only training strict technique, but adding creative work and transitions into tricks.
Next to the physical part. It is important to us to also share our experience in dealing with injuries and how to deal with bad days. We'll help you design your own training to achieve the goals you set – sharing knowledge of strength training, recovery and mindset.
People talk a lot about safety and spotting… We will practice!!! There will be regular high level spotting – training and specific sessions, where you practice to train in a 'high stakes' environment with the full focus of everyone.
The program is designed to help you in your process, no matter how long you are staying. Of course you will get the most out of it, if you stay for all four weeks. But we know this is not possible for everyone, so we designed the program so that there are progressions during a week and even greater progression during the whole program!
>>> Content: <<<
Handstands
Tumbling
Dynamic acrobatics (Courbet, Cascade, Salto, …)
Static standing acrobatics (One arms, long arm h2h, knot,…)
Icarian games
Spotting
Strength & Flexibility training
Private & semi-private classes
Free training with guidance
>>> Level & Prerequisites: <<<
The program is designed for intermediate & advanced acrobats (please check the prerequisites). Each round of classes will have different classes (intermediate, advanced, Icarians) The students can pick between different classes depending on their level and their interests.  There are no fixed tracks you have to follow, you can pick the classes which are interesting to you (and fit your level), or train on your own and with others.
The prerequisites are:
standing h2h 5 sec without a step
standing f2h, base can squat, walking in a square,
If interested in icarian:
bird to throne, throne to bird
f2f
In the sign up form, you can specify your level and also send us your wishes.>
>>> Schedule <<<
Each training week is 5 days. The first week is from Tuesday 03.10. – Saturday 07.10. All the other weeks are from Monday to Friday.
Week 1: 03.10. – 07.10.
Week 2: 09.10. – 13.10.
Week 3: 16.10. – 20.10.
Week 4: 23.10. – 27.10.
>>> Sign up with a partner? <<<
We only accept sign-ups as duos or as groups, so we are sure everyone has a partner to train with and we have enough spotters to keep each other safe.
If you are looking for a partner, you can sign up in this Drive sheet, and contact people if they want to team up with you:
https://forms.gle/YEpebQNu4FhYdpAv5
Here you can see who is looking for a partner:
https://docs.google.com/…/1PowduOupqzLkObE3QZQ2…/edit…
We cannot guarantee that you will be able to always train at your level if you don't come with a fixed partner or group.
>>> Registration and prices: <<<
super early bird
early bird
regular
four weeks

340 € per week 

(1370 € total)

386 € per week 

(1545 € total)

430 € per week

(1720 € total)

three weeks

365 € per week 

(1100 € total)

410 € per week 

(1230 € total)

455 € per week

(1370 € total)

two weeks

390 € per week 

(780 € total)

435 € per week

(875 € total)

485 € per week

(975 € total)

one week

420 €

465 €

515 €
Social Pricing: We try to make this acrobatic program accessible to everyone, who wants to join, regardless of their economic background. If you are able to pay more, you contribute to the social pricing system and help others to afford the workshop.
sliding scale:
– 100+ %: you can donate to support others
– 100 %: normal ticket price
– Social price: you can use the promo codes "social10" or "social20" to get some discount on your ticket.
>>> Location <<<
The program takes place at Circus Paletti in Mannheim Germany. The circus-gym is 600 m² large, full of mats, longes and other things which makes us acrobats happy.
There is also a 450 m² large circus tent for the late afternoon, so everyone can stretch, hang out, or train a bit longer.
We also have our "Airtime Cafe" for coffee and lunch breaks, and to hang out in case you need a rest. This Cafe can also be used in case you need a space to work on your laptop during the program times (we get WiFi).
UNFORTUNATELY WE CAN'T PROVIDE ACCOMMODATION OR FOOD FOR THIS EVENT, but here are some options you can consider:
coming soon!!!
There will be a Facebook & Whatsapp group to coordinate Air BnB's or guest rooms.